Devona had, since visiting a historic inn in her early twenties, dreamed of being an innkeeper. She has a deep love of early nineteenth-century architecture and furnishings. Steve, continuing his career as a land-use attorney, has been instrumental in preserving and restoring many historically significant buildings throughout Louisville and Jefferson County, Kentucky. Both of them enjoy people – meeting people, getting to know people and serving people. Opening 1840 Tucker House Bed and Breakfast was a natural use of their interests and talents and being innkeepers was a perfect fit for this couple.

Their quarters are in the inn, but far enough from the guests' rooms to provide privacy for both their guests and themselves, and they're always ready – and delighted – to answer any questions that their guests may have about their beloved Tucker House. They currently share Tucker House with two outside cats, Mint Julep and Sambuca (better known as "Jules" and "Sam"), both of whom appeared at their back door on separate occasions – and both of whom determined pretty quickly that this couple looked like a soft touch when it came to stray animals. They were right. Now, they have added kitten, Earl, which is short for Early Times (Hey! It's bourbon country!). And, thinking that three cats weren't enough, Gibby, the Brittanypoo, was welcomed in August, 2017. Both Gibby and Earl reside in the innkeepers' quarters.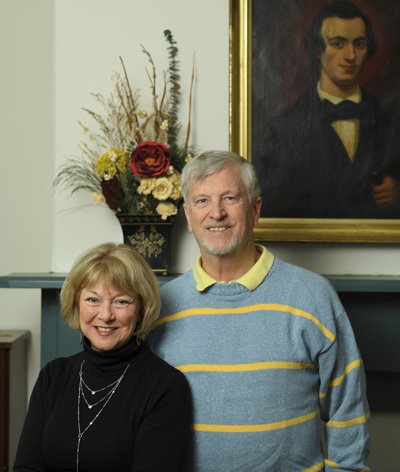 Their goal has always been to provide their guests with a warm welcome, a beautiful and serene atmosphere, a comfortable bed to rest upon, a wonderful "Kentucky Gourmet" breakfast, and all the amenities that one would expect of a five-star hotel. Their slogan is: "1840 Tucker House – where history and hospitality come together." Be their guest and see for yourself!